Locksmith Services
All services are available for both residential and business customers (see below for further description):
Rekey of existing locks
Lock repair (older locks a specialty!)
Sales & installation of new locks, including deadbolts, lever sets,
handle sets & knob sets
High security locks
Master key systems
Lockouts
Electronic locks
Keys for desks, file cabinets

&

mailboxes
Keys—new or duplicates made on location
Strike plate alignment

&

door repair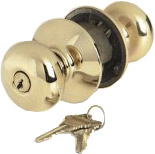 Rekey existing locks
Sometimes confused with replacing the lock, rekeying is a less expensive method for recoding an existing lock. Rekeying involves the disassembly and recoding of your current lock and the creation of a new key, so that all previous keys no longer work. Rekeying is good idea when first moving in to your home or office, or periodically to deactivate lost or loaned keys. Many times we are able to rekey all locks in a home or business to one new key.
Repair
Especially with older lock systems, it's often the case that a repair can save the cost of a complete replacement while maintaining the style of the original door and hardware. Custom work as necessary can sometimes extend the life of an older lock.
New locks
When it's time to replace a lock or add additional locks, Bill's Lock & Key can assist in selection of new hardware that satisfies the style, budget and security requirements of your application.
Master key
Especially for landlords and property managers who oversee multiple units in a single building, the master key plan provides one key to open all units of the building.
<a href="tel:1-360-298-4862"><img src="/wp-content/uploads/2018/10/phone-button-off.png" onmouseover="this.src='/wp-content/uploads/2018/10/phone-button-on.png'" onmouseout="this.src='/wp-content/uploads/2018/10/phone-button-off.png'" /></a>